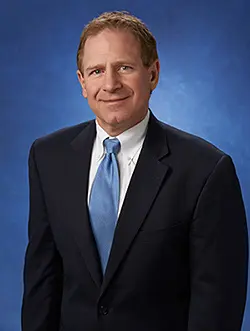 Dr. David Weinstein specializes in sports medicine, knee surgery, and shoulder and elbow disorders. He completed fellowship training at Columbia-New York Orthopaedic Hospital in New York City in shoulder and elbow reconstruction and an additional fellowship overseas in orthopedic trauma. Dr. Weinstein is a graduate of the University of Colorado School of Medicine, where he remained to complete his orthopedic surgery residency.
As associate clinical professor at the University of Colorado Department of Orthopaedic Surgery in Denver, Dr. Weinstein is an avid researcher and passionate educator. He has published numerous papers and given lectures relating to his specialties.
Dr. Weinstein has held many prestigious positions including head physician for the 2003 US Pan American Games team and the 2004 Athens Summer Olympic Games. He was a team physician for the United States at the 2000 Sydney Summer Olympic Games and the 2002 Salt Lake City Winter Olympic Games.
Education:
BS: Colorado State University
MD: University of Colorado School of Medicine
Residency: University of Colorado
Fellowship: Shoulder and Elbow Reconstruction, Columbia-New York Orthopaedic Hospital
Board Certification: American Board of Orthopaedic Surgery
Team Physician:
1994-Present: Orthopedic Consultant, United States Olympic Training Center, Colorado Springs
1994-Present: Medical Staff, USA National Women's Senior Basketball Team
1994-Present: Medical Staff, USA Wrestling
1994-Present: Medical Staff, Colorado Springs Sky Sox Triple A Baseball Club
Memberships:
American Academy of Orthopedic Surgeons
American Society of Shoulder and Elbow Surgeons
El Paso County Medical Society
Jeremy Raulie, MS, PA-C
Physician Assistant
Jeremy serves as a physician assistant for Dr. Dave Weinstein, evaluating and treating orthopedic and sports medicine conditions. Jeremy assists in surgical procedures including arthroscopy and ligament and joint reconstruction. He is skilled in fracture and trauma care of the lower and upper extremities, including knee, foot, ankle, shoulder, and elbow.
A Colorado Springs native, Jeremy graduated from Chicago Medical School's Finch University of Health Sciences. Before receiving his PA certification, Jeremy worked in physical therapy and as an exercise physiologist for many years. He is active in orthopedic research and education.
Shannon M. Constantinides, PhD, MSN, FNP, NP-C, RN
Nurse Practitioner
Dr. Shannon Constantinides received her PhD from Florida Atlantic University, where she specialized in advanced applied biostatistics, population health, and health care delivery systems. As a researcher, Dr. Constantinides is interested in studying issues pertaining to musculoskeletal health and social determinants that impact health. Dr. Constantinides graduated from the University of Colorado with her Master of Science in Nursing, and is a board certified family nurse practitioner with over a decade of experience – primarily in orthopedics and sports medicine. She has been trained to assist in orthopedic surgical procedures and is skilled at performing imaging guided injections. Prior to becoming a nurse practitioner, Dr. Constantinides was a critical care transport nurse in the United States Air Force, where she served in support of Operation Iraqi Freedom and Operation Enduring Freedom. Dr. Constantinides is a Colorado Springs native. She and her husband enjoy fly fishing, mountain biking, yoga, CrossFit, and adventure travel.